Product Description
XTOOL X100 Pro2 Auto Key Programmer is a hand-held device for programming keys in immobilizer units on vehicles,includes functions of key programming.
This scan tool has a simple and robust design,which can meet the actual needs of different users such as automobile repair factory and workshop and make your vehicle service experience much easier! 
XTOOL X100 Pro2 Auto Key Programmer with EEPROM Adapter

X-100 Pro2 Auto Key Programmer is a hand-held device for programming keys in immobilizer units on vehicles.
This scan tool has a simple and robust design, to make your vehicle service experience much easier!

XTOOL X100 Pro2 Highlights:

1. Support most European, American, Asian and Chinese Cars on key programming functions
2. One Key Update via Wifi on Officail Site. Upgradeable via web-based download, Upgrade step, please reference page 11-14 on user manual.
3. One Year Warranty.
4. Support Multi-language: English, Spanish, Portuguese, French, German, Russian, Polish, Italian and Chinese

XTOOL X100 Pro2 Features:

1.New keys programming
2.Read keys from immobilizer memory
3.New immobilizer programming
4.New ECU programming
5.New mechanical key number programming
6.Vehicle Identification Number programming
7.Reset Immobilizer
8.Easy to operate by guiding menu programming
9.New remote controller programming
10.With full and strong database for the most important vehicle makes
11.Upgrade via web-based download

Note: The xtool pro2 is not good at mileage correction
Vehicle Coverage:
Asia
:
Toyota, Lexus, for Honda, Acura, Mazda, for Nissan, Infiniti, Mitsubishi, for Subaru, Suzuki, Kia, Hyundai, Daewoo, SSANGYONG, Proton, Lotus etc.
Europe:
Audi, VW, Skoda, Seat, Porsche, Opel, Citroen, Peugeot, Jaguar, Land Rover, Lincoln, Renault etc.
America
: GM, Cadillac, Buick, Chrysler, Ford etc.
China:
Great Wall, Chery, Brilliance-auto, Geely, LIFAN, HAFEI, CHANGAN, LANDWIND, BYD, Changan, Changfeng, Changhe,HNMazda, Huapu, JAC, LiuZhou, Lufeng, Roewe, SQYL, ZZMazda, ZZNissan etc.

Specifications: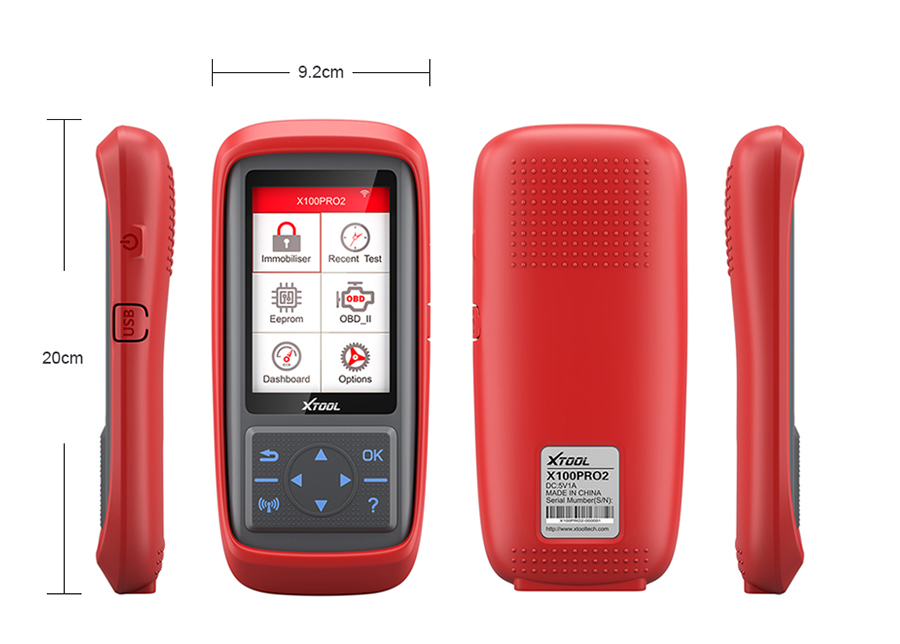 How to Update Xtool X100 Pro2?
1. Go to Xtool Official Website and go inside the X100 PRO2
2. Contact the X100 PRO2 with the Laptop
3. Download the Update helper then click the update for the newest software
Notice:
Please close the antivirus software before download, don't create an acount when you get this X100 pro Tool. Please log in directly with SN number and password (in "About" option of setting part) in our device.
Package includes:
1 pc x XTOOL X100 Pro2 Main Unit
1 pc x Honda-3
1 pc x OBDII-16
1 pc x KIA Hyundai-10
1 pc x KIA-20
1 pc x EEPROM
1 pc x EEPROM Adapter
1 pc x Power Adapter 12V/1A
1 pc x Main Cable
1 pc x Micro USB Cable
1 pc x US Power Adapter
1 pc x EU Power Adapter
1 pc x Plastic Box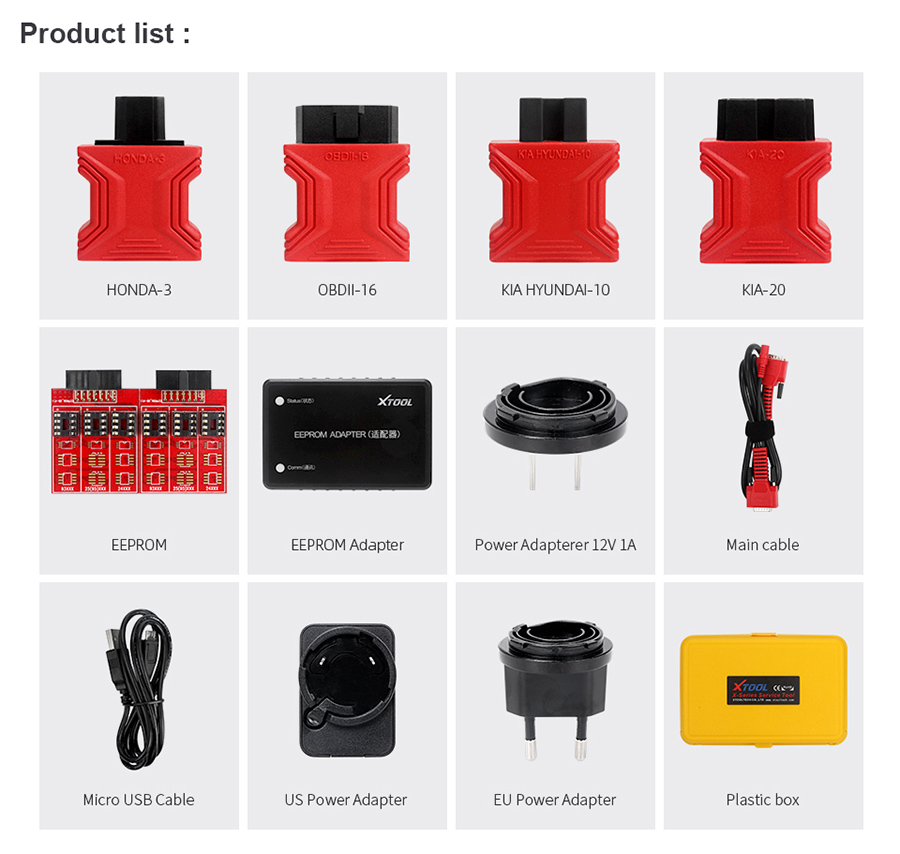 XTOOL X100 Pro2 FAQs:
Q1:Will this program key for Mercedes Benz C200
A1:can not do key programming for benz.
Q2:I work at a facility that buys auction cars, without keys. Will this start the vehicles without the keys? If not then what product will?
A2:nice work. our xtool product does not support that amount vehicles for All key lost. try our x100 pad2 pro
Q3:Will it program keys for 2017 dodge grand caravan and 2005 Dodge Ram 1500
A3:I can't say but it did programming my keys for 2003 Honda Civic
Q4:It is working for 2008 honda accord?
A4:yes,it support this car for keys.
Q5:Does this work for mileage correction
A5:yes,for partial cars.
Q6: Does this work for mileage correction?
A6: Yes for partial cars.
Not Support Mileage Correction List according to customers' feedback so far:
Peugeot Expert 2013
Ford c max 2012
Fiat punto evo 2012,
Jeep renegade 2015,
VW Golf5, 7 2005/ 2015
Landrover Discovery 2016
Range Rover (Evoque) Discovery 4
Renault Grand Scenic 1.6 diesel 2013
Toyota Yaris diesel 2007
Fiat 500l 2014
XTOOL X100 Pro2 Reviews:
Review 1:
if you lost keys to your vehicle this is a great tool a lock smith or having the dealer do it will cost you around 500 so by doing it your self with this device you save your self 300$ roughly this device also has a old 2 scanner and on select models you can adjust your miles. overall this is a great product and is very well made.
Review 2:
I'm impressed. Was able to program 3 aftermarket keys to my 2009 Outback XT and it did not ask for the immobilizer or teaching code. I haven't tried updating it yet and was easy to use.
Review 3:
Worked like charm. Programmed an aftermarket key for my 2014 Lexus Rx350 at first try. I see its even capable of doing mileage adjustment. But it did not work on my 2011 Toyota Avalon. It did not even connect. I do not understand how it would work and program 2014 Lexus and not a 2011 Toyota Avalon. Hence the one star drop. For the money? Its a good buy.
The 30 Best Sellers of 2021, Engineer Highly Recommended!
Autel IM508+XP400 Pro Same Immo Function As IM608 Pro
Any questions, please don't hesitate to contact us:
Email:
sales@CarDiagTool.co.uk
Skype: cardiag.co.uk
Whatsapp: +86 15002705698
Scan QR Code to Order By Mobile Phone
Shipping Method & Delivery:

UK/EU Warehouse Shipping:
3-5 working days. Fast Delivery No Tax.
EU Check:
Ship from EU
UK Check:
Ship from UK
DHL Shipping:
5-7 working days, you need pay some tax to your customs. Usually we declare a lower price on DHL invoice to help with customs clearance. If your address belongs to remote area, customer will need to pay remote handling cost. Please remember to leave message if you have any special requirement.
Yanwen Express:
10-15 working days. No Tax or remote cost for European Countries.
Yodel/Royal Mail:
Just for United Kingdom. No Tax, and the delivery is about 7-10 days.
Standard Post:
The delivery is about 15-20 days, no tax. Order under $150 normally with default shipping Standard Post, customers can tick for Express Shipping Service to ship by DHL.
---
Warranty Item:
Almost all item has one year warranty.
We also offer free fix to almost item we sold within one year, free repair. Man-made damage need pay.
We not offer warranty on keys,cables,adapter,online sent software ,please notice it.
Software Download
Here's step-by-step online update guide of xtool products, including TP200, X300P, X100 Pro, X100 Pro2, X300 Plus.
Step 1:
Visit Xtool official website http://www.xtooltech.com
Step 2:
Select product you desired, download and Install the upgrade tool installation package
Step 3:
Extract the installation package into an upgrade tool
Step 4:
Connect xtool device to Windows computer with Type-c cable; (If the USB device cannot be recognized.
Use this method: 1) insert the TYPE-C connector halfway to make the screen light up. 2) then insert all of the TYPE-C connector to identify the USB device)
Step 5:
Open the upgrade tool,input the Product SN and Password,then click login;
(Certificate of conformity with S / N and password.
Note: The serial number begins with the three letters PRO)
Step 6:
Select the required language upgrade;
Step 7:
Wait until the upgrade completed.