Product Description
2M2 Magic Tank is an automatic car key cutting machine, which can be used via Bluetooth on Android system without battery.
Newest 2M2 Magic Tank Automatic Car Key Cutting machine controlled by bluetooth link to the mobile phone only Support Android Without Battery
Highlights of 2M2 Magic Tank Automatic Car Key Cutting machine:
1. Database version:
V2021012501, which can support 95% car keys. 
2. Fully Automatic, Easy to Operate.
You don't need to learn it. Just open the APP and do it.
Special models do not need to change the fixture, just follow the APP prompt
For new users do not know the key, directly follow the picture selection  
3. Design and Performance
The motor is powerful, can reach 12,000 RPM (Revolutions Per Minute), cutting speed is the fastest in the same competition
Double shaft design, avoid frequent replacement of milling cutter and needle
4. Built-in Instacode
5. 2 years Warranty
6. Free Update online for Lifetime
7. Powerful Standard Fixture
The standard fixture is a 2-in-1 fixture, which can be used for cutting the vertical milling blank and the key of the horizontal milling blank. 
Toy2 does not need special fixture, directly cut the key, other manufacturers need to install gasket fixture.
For Volkswagen's hu66 is also directly available in this standard fixture for direct cutting.
162T For Volkswagen 4 sides, only need to be clamped once, can be fully automatic four side cutting
8. Comes with one standard Fixture and one Free HU64 Fixture.
9. Worldwide patent Tech 2-in-1 Rotating Fixture for Ford Mondeo FO21&Tibbe Round Key (
extra buy
)
10. Extra buy
Power Supply
to take the machine out for work after charged.
11. Original V8/X6 Manufacture.
12. Multi-language: English, Portuguese, Spanish and Russian
13. Support sided/track/dimple keys/ tibbe keys/motorbike keys/some household keys.
Scan the below QR Code with Android Phone to download the 2M2 Magic Tank APP






For new user, please refer to below three steps to set the 2M2 machine:



1.Please download App: 
https://blade.2m2.tech:7777/
2. install probe & cutter: 
https://www.youtube.com/watch?v=Mwb6iXBhaJE
3.calibration: 
https://www.youtube.com/watch?v=T9osOynNjbY
4. All the above steps OK.  Now it is time to cut keys, it is easy to use machine.
Note:
When you cut keys via bitting or for all key lost, please watch the videos first. 
Or refer to 3D manual pictures insided in APP.  If you want to cut any key,
3D pictures will guide you how to operate  step by step.
2M2 Tank Update from Sep 2020:
We can also call 2M2 Tank key blade maker. Only if you have a piece of copper, you can make key types or key models.
This function can generate flat key types,standard key types,laser key types,inner groove, outer groove,2 tracks,4 tracks,and many special types. Most of our common key types.
How to operate? Where to choose? How to clamp key? Very easy to use, 2M2 Magic Tank APP key cutting machine will guide step by step. 
In September 2020, one more time update for creating keys by camera, only use a piece of copper to make a complete key from a piece of copper to a perfect key.
2M2 Magic Tank Automatic Car Key Cutting machine Specifications:
Standard version
Milling spindle
Brushless Motor
Transmission mechanism
Ball screw
Guide rail
Cross roller guide
Body structure
Aluminium alloy
Shell structure
Engineering plastic
Clamp/Fixture
2 in 1 fixture
Additional fixture
HU64 Mercedes-Benz fixture HU64
Control interface
Android App
Weight
10.8KG
Warranty
Two years
Power supply
Adapter
2M2 Magic Tank Automatic Car Key Cutting machine Supported Vehicles:
Europe:
For ALFAROME, For AUDI, For BMW, For CITROEN, For FERRARI, For FIAT, For FORD-EU, For HOLDEN, For IVECO, For JAGUAR,
For LANCIA, For LAND ROVER, For LDV, For MAN, For MASERATI, For MERCEDES-BENZ, For MINI, For OPEL, For PEUGEOT,
For PORSCHE, For RENAULT, For ROVER, For SAAB, For SEAT, For SKODA, For VAUXHALL, For VOLKSWAG, For VOLVO
USA:
For BUICK, For CADILLAC, For CHEVROLE, For CHRYSLER, For DODGE, For FORD-USA, For HUMMER, For LINCOLN, For MERCURY

Japan & Korea:
For ACURA, For DAIHATSU, For HONDA, For HYUNDAI, For INFINITI, For KIA, For LEXUS, For MAZDA,
For MITSUBIS, For NISSAN, For SSANGYON, For SUBARU, For SUZUKI, For TOYOTA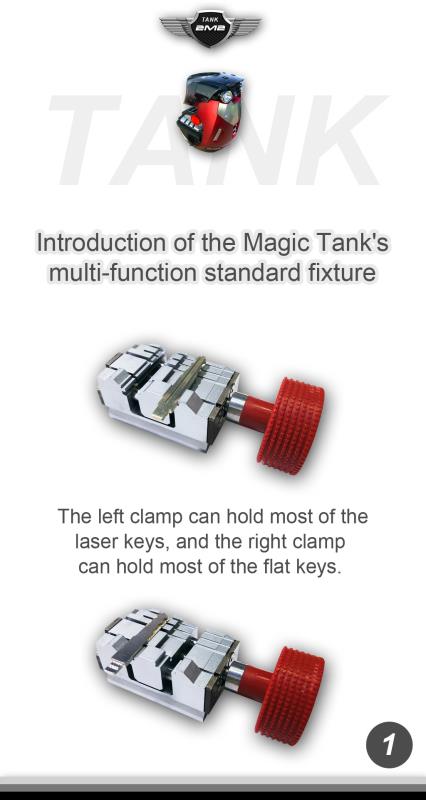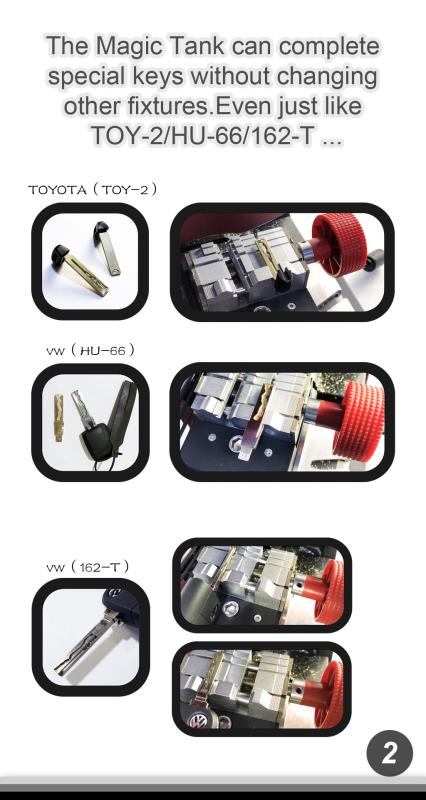 FAQs on 2M2 Magic Tank Cutting Machine
Q1: How can I cut chevrolet laser key?
A: Please choose HU100 in menu then search for chevrolet.
Q2: It only works on Android system?
A: Yes, only android phone right now.
Q3: will magic tank support hu100 or a hu101 a toy48?
A: yes, it can support
Q4: Will it cut minibus keys?
A: Yes, it can support, and it also support key cut for civil use.
Q5: do you sell HU162T clamp to cut new VW keys?
A: HU162T clamp is in the default package, no need extra buy. 
Q6: Does it support Yamaha r15 Ducati ZD30 honda bike?
A: It cannot support motorcycle keys right now, but it will be avail in later updates
Reviews on 2M2 Magic Tank Cutting Machine:
1.I have it… and use it few times a day without any issues.
2. I have it and love it. yes on the 2017 fords hu101, Hu162 I did not use on a car. I cut the key for fun. Looked like it cut fine 
thou I do have tibbe adapter and it works awesome also. It will cut the new ford keys.The 2m2 is more like a cnc machine then a key cutter.
3. For 1400dlls it's a good machine, ive had it for a year now without problems.
4. For good design, only the factory doesn't think about the rest of the car key iron powder where it will fall down (because of the holes) and it hits the sensor, the engine's rotating gear if it's not cleaned.
I experienced a jammed machine and when I opened it completely with the remaining key iron powder. you should open and clean your machine regularly. for very good performance, I have bought this product early on sale until now 
there may be 1 year.
5. You get what you pay for and what looks like a bargain usually isn't. Miracle key machines cost more, last forever, have every spare part and consumable available and have great after-sales service including perpetual free updates and no token charges.
But they cost two or three times as much as cheap Chinese machines.
6. I still use my trusty A5. Never serviced, rarely cleaned and still more reliable than a newer, far more expensive machine I have.
Package includes:
1pc x 2M2 Magic Tank Key Cutting Machine
1pc x Stopper
1pc x Hexagon Driver (2.5)
1pc x Hexagon Driver (8.0)
2pcs x Cutter
4pcs x Probe
1pc x Blue Spanner
1pc x Red Spanner
1pc x Brush
1pc x Power Adapter
2022 Hottest ECU Programmer PCMTuner
Autel IM508+XP400 Pro Same Immo Function As IM608 Pro
Any questions, please don't hesitate to contact us:
Email:
sales@CarDiagTool.co.uk
Skype: cardiag.co.uk
Whatsapp: +86 15002705698
Scan QR Code to Order By Mobile Phone
Shipping Method & Delivery:

UK/EU Warehouse Shipping:
3-5 working days. Fast Delivery No Tax.
EU Check:
Ship from EU
UK Check:
Ship from UK
DHL Shipping:
5-7 working days, you need pay some tax to your customs. Usually we declare a lower price on DHL invoice to help with customs clearance. If your address belongs to remote area, customer will need to pay remote handling cost. Please remember to leave message if you have any special requirement.
Yanwen Express:
10-15 working days. No Tax or remote cost for European Countries.
Yodel/Royal Mail:
Just for United Kingdom. No Tax, and the delivery is about 7-10 days.
Standard Post:
The delivery is about 15-20 days, no tax. Order under $150 normally with default shipping Standard Post, customers can tick for Express Shipping Service to ship by DHL.
---
Warranty Item:
Almost all item has one year warranty.
We also offer free fix to almost item we sold within one year, free repair. Man-made damage need pay.
We not offer warranty on keys,cables,adapter,online sent software ,please notice it.