Product Description
Vident iEasy310 ODB2 Scanner OBDII Code Reader and Car Diagnostic Tool OBD2 Automotive Scanner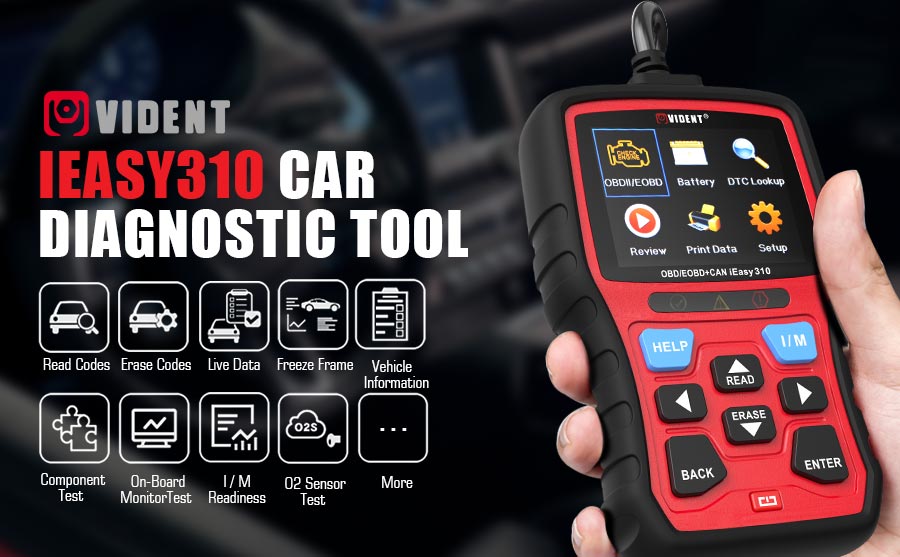 The Vident iEasy310 CAN OBDII/EOBD Code Reader is a rugged design and portable code reader for entry-level professionals and savvy DIY people.
Coupled with oxygen monitor testing, in-vehicle monitor testing and component testing, the iEasy310 is truly the ultimate choice for functionality and affordability.
In addition, thousands of troubleshooter code tips help technicians to save diagnosis and repair time.
Vident iEasy310 Description:
1.Support all OBDII functions, turn off check engine light, reset monitor, read enhanced data etc.
2.Support Multi-language; works with all 12V standard obd2 protocols vehicles.
3.User-friendly Design,I/M and READ/CLEAR Trouble Code Hot keys and 2.8'' TFT color screen .
4. Emission Test Helper, Green-Yellow- Red LEDs and build-in speaker indicate emission monitor status.
5. No battery required, it is charged directly from the OBDII car scanner interface in your vehicle( just need to turn on the ignition of your vehicle).
6. Lifetime free upgrade online via USB cable.
Vident iEasy310 Highlights:
1. One-click I/M for quick view of car emissions.
2. 3 color indicator (green, yellow, red) display, making the test results more intuitive.
3. Buzzer, all operations and test results, increase the intuitive experience of the test.
4. Original OBDII product VIN code automatic positioning function, saving customers' custom code selection time.
5. Support waveform display and support maximum 4-channel waveform comparison.
6. Support battery voltage test.
7. Quickly read the fault code and erase the fault code button design, saving customers time.
8. Fault code query function, device or upgrade tool can support query fault code and support multi-language.
9. Support connection to PC computer printing function.
10. Support data storage, fault code, system information and other important data storage, playback function
11. The whole product is treated with anti-drop rubber coating, which is more durable.
12. Free lifetime upgrade - use USB cable.
Functions:
1. Works with most 1996 and newer OBDII& CAN compliant cars, light-duty trucks, SUVs, minivans and hybrid sold worldwide.
2. Support all the 10 OBDII test modes.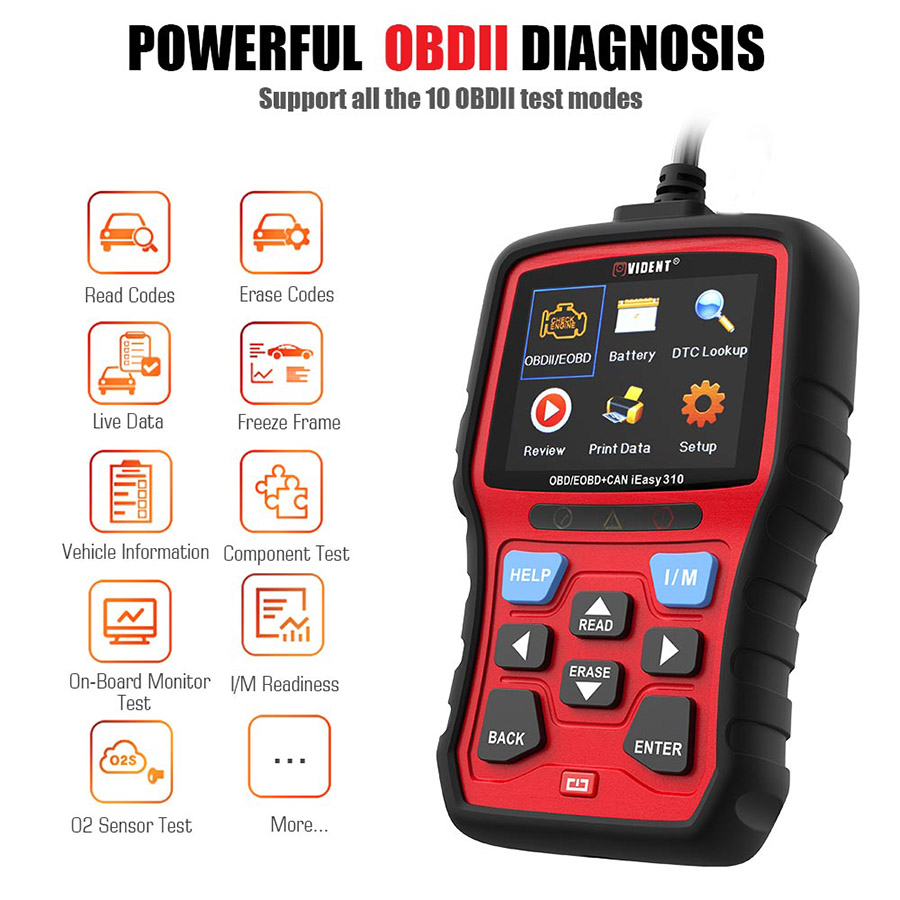 3. Red-Yellow-Green LEDs and build-in speaker indicate emissions monitor status. They can also help catch intermittent problems or confirm repairs during a drive cycle.
4. I/M readiness hot keys make it easy to use this tool right out of the package. -quick display of status of all tests on a single screen.
5. Read/ clear stored & pending codes, switch off Check Engine Light (MIL) and resets monitors.
6. View on-screen fault code definitions (Generic, manufacturer specific, pending and permanent , where available) - thousands of definitions stored within the tool software look up fault code definitions from the tool's on-board database.
7. Read freeze-frame data engine conditions such as fuel trim, engine coolant temp, etc., at the time the Malfunction Indicator Lamp (MIL) was set(a snapshot of sensor values when a DTC occurred)
8. Read, record, graph & playback real-time live data streams from the engine sensors - ideal for monitoring intermittent faults graph live engine data on-screen.
9. View Oxygen Sensor test results (dependent on vehicle support)
10. View on board monitor test and component test. Retrieve protocol, VIN, Cal ID and CVN identifiers from ECU (dependent on vehicle support)Test and display the voltage of battery.
Support max. 4 graphic comparassions of data stream.
11. Enhanced Mode 6 functions—Non-continuously Monitored Systems test results.
12. Automatic VIN acquisition and decoding makes it much easier to read manufacturer specific codes and enhanced mode 6 data.
13. Multilingual menu options (10 languages): English,French,German, Russian,Spanish,Italian,Portuguese, Hungarian,Dutch,Sweden
14. Unique shortcut menu to enter update mode easily.
15. Lifetime free software and firmware updates.
Muti-Languages:
English,French,German, Russian,Spanish,Italian,Portuguese, Hungarian,Dutch,Sweden
Vehicle Coverage:
America(USA) :
Compatible with 12V Standard OBD2 Cars from 2001 to Now:
Chrysler; Ford; GM; Jeep; GMC; BUICK; Saturn; Pontiac; Chery
Europe:
Compatible with 12V Standard OBD2 Cars from 2004 to Now:
Alfa Romeo; SAAB; Acura; Opel; Audi; Seat; Bentley; Skoda; Daewoo; Benz; Daihatsu; Land Rover, BMW; Vauxhall; Volvo; Fiat; VW; Ford; Jaguar
France:​
Compatible with 12V Standard OBD2 Cars from 2006 to Now:
Peugeot; Citroen
Not support for all Renault vehicles, such as:not support for Renault Clio 2/Megane/Dacia Logan / .etc
Japan:
Compatible with 12V Standard OBD2 Cars from 2007 to Now:
KIA; Isuzu; Honda; Mitsubishi; Hyundai; Dacia; Lexus; Mazda; Nissan; Subaru; Suzuki; Toyota
China:
Compatible with 12V Standard OBD2 Cars from 2011 to Now:
BYD; Chery; Geely; Great Wall; Karry; JAC
Product Display:



NOTE:
Even though it compatible with most cars, but different regions support the vehicle OBD2 protocol at different times, or some car is special design, so it may not compatible with some cars which do not support OBD2 protocol. Especially Japanese and Korean car brand.
Warning:
Not Support Russian Cars VAZ,UAZ,LADA ;Not works with trucks
Not Support for All Renault vehicles
Not Support for Ssangyong Actyon , from 2009 to 2017 years.
Not Support for Ssangyong Korando , 2.0 TD Diesel , from 2013 to 2017 years.
Not Support for Ssangyong Kyron , 2.0 Diesel , from 2010 to 2017 years.
Not Support for Ssangyong Rexton , 2011 to 2017 years.
Package includes:
1PC x Vident iEasy310 ODB2 Scanner
1PC x USB cable
1PC x English version of the manual
(other versions of German, Spanish, French, please download online)

Hot Autel Items ship from UK, NO TAX & NO IP Limited



Xhorse Big Promotion
(VVDI2 complete version only €1485, VVDI MB TOOL €1019 and get a free mini key tool)
Any questions, please don't hesitate to contact us.
Email:

sales@CarDiagTool.co.uk
Skype:cardiag.co.uk
Whatsapp:+86 15002705698
---
After sale service:
Almost all item has one year warranty.
We also offer free fix to almost item we sold within one year,free repair.M
an-made damage need pay.
We not offer warranty on keys,cables,adapter,online sent software,please notice it.